Giant robot bear nurse part of 'new approach' to elderly care (no, really)
[responsivevoice_button buttontext="Read Article to Me"]
YOU WOULD, PERHAPS, want to have a quick, quiet chat with your grandmother before introducing her to this member of her care-giving team…

Source: Riken
Scientists at Japanese research institute Riken[1] have developed an experimental nursing care robot, capable of lifting a patient into a wheelchair or helping someone who can't stand up under their own power.
According to a press release announcing the development, 'ROBEAR' could "supplement Japan's need for new approaches to care-giving".
The new version of the robot is a successor to two previous efforts. This one is much lighter – at just 140 kilos. It's also got a lighter touch, and has been designed to "exert force in a gentle way".
Sensor technology means the 'ROBEAR' can be relied upon not to drop anyone, or hurt them as it lifts them, according to its creators.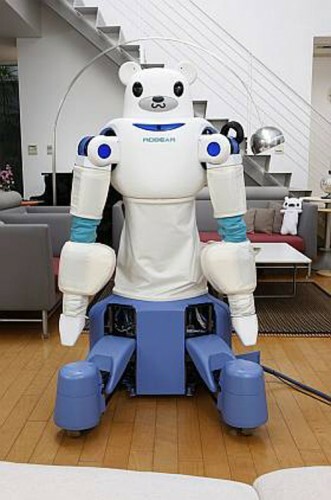 Source: Riken
The sensors, according to Riken, "allow for gentle movements, ensuring that the robot can perform power-intensive tasks such as lifting patients without endangering them".
It avoids falling over through the use of legs that can be extended when necessary for lifting a patient but retracted to allow the robot to maneuver through tight spaces such as doorways.
With a rapidly increasing elderly population, Japan has been looking at new approaches to assist care-giving staff. 
Again, according to the research institute:
One of the most strenuous tasks for such personnel, carried out an average of 40 times every day, is that of lifting a patient from a bed into a wheelchair, and this is a major cause of lower back pain. Robots are well-suited to this task, yet none have yet been deployed in care-giving facilities.
All very admirable… But at no point in their press material do they explain why it's been designed AS A BEAR.